Voice of Roma 2013 Events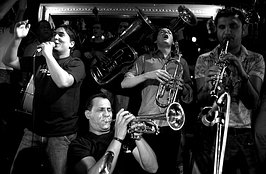 May 4, 2013
Kočani Orkestar - Oakland, CA
...on tour from Macedonia
17th annual California Herdeljezi Festival
The New Parish, 579 18th St., Oakland, CA 94612
between San Pablo & Jefferson - three blocks from BART
more info
---
past 2013 events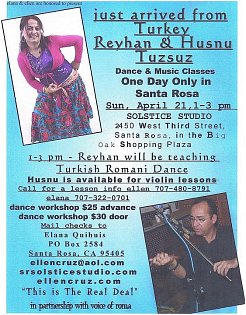 April 21, 2013
Dance/Music Classes - Santa Rosa, CA
Solstice Studio, 2430 W. 3rd St., Santa Rosa, CA 95401
Sunday 1-3 pm. (707-538-8839 ). $25 advance, $30 at door.


...featuring Reyhan Tuzsuz, a leading teacher of Turkish Romani dance (Roman Oyun Havası), and Hüsnü Tuzsuz, a master violinist and teacher.
Info: Ellen Cruz 707-480-8791, Elana Quihuis 707-322-0701.

Presented by Ellen and Elana, in partnerhip with Voice of Roma.





April 5, 2013
International Roma Day - San Francisco, CA
Croatian Cultural Center, 60 Onondaga Avenue, San Francisco, CA 94112
Friday 7:30 pm. (415-584-8859)
A celebration of Romani
(Gypsy)
culture and unity, featuring the Reyhan and Hüsnü Tuzsuz Turkish Romani Ensemble. Reyhan is a leading teacher of Turkish Romani dance
(Roman Oyun Havası)
, and Hüsnü is a master violinist and teacher. Plus Galbeno Band, Rumen Sali Shopov, professor Sonia Seeman, Sani Rifati, and authentic food by Julia.
more info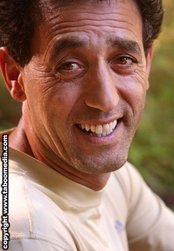 April 2nd, 2013
"Art, activism, and the politics of stereotypes:
a 'Gypsy Show'"
- Sani Rifati IRD lecture at California Institute of Integral Studies, Department of Anthropology and Social Change, 7-9 pm, CIIS, 1453 Mission St., San Francisco, CA 94103, room 607.
"Come to celebrate International Roma Day, in solidarity with Romani struggles for dignity and internationalism. Please join us for a talk that will focus on Roma history, music, and culture, in an atmosphere of dignity and respect. Nowadays, when it feels as if anybody can claim to be a 'Gypsy' musician, or a 'Gypsy' artist, it is important to remember who the real Roma actually are. Despite the recent attention, or even hype, surrounding the cultural production of the 'Gypsies,' vast majority of Roma artists can barely make a living, let alone the world music stage. Brands that we usually associate with this culture, 'Gypsy Caravan' and 'Gypsy Spirit', are more often then not far removed from the actual existing Roma culture and racist violence unfolding in Europe."
March 15-23, 2013
Sani Rifati dance classes - LA and San Diego tour
Download details. (MS-Word 38 KB)